Wine Cyprus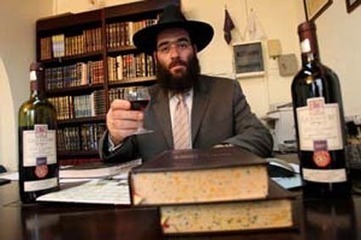 Raskin entered into a co-operation with the Lambouri Winery in Kato Platres, a more than 300-year-old operation steeped in tradition, to create a fruity, but dry red wine made from a blend of native Mavro grapes, Cabernet Sauvignon and Grenache Noir. With the assistance of Rabbi Pinchas Leibush Padwa, director of kosher supervision for the European Council of Jewish Communities, Raskin supervised every step of the production.
But the rabbi had more than just utilitarian goals in mind; he wanted the final product to be as good as, or better than, other locally-produced wines in the same price bracket.
He found a good fit in Lambouri, which uses locally harvested grapes grown on the southern slopes of the Troodos Mountains. The microclimate boasts rich limestone soil, spring showers and hot, sun-drenched summers; mild winters and a gentle breeze help keep the ravaging effects of frost in check.
Partner and winemaker Christos Lambouris told the Sunday Mail that the production process was different to normal. "We used a special four-way filtration process, adding materials provided by the Jewish community," he explained, adding that the Rabbi and his assistants oversaw production. A total of 12,000 bottles were made between last August and March "and I must say that it has turned out to be a very nice wine, full of body and balance."
Via crownheights.info