Wine Cyprus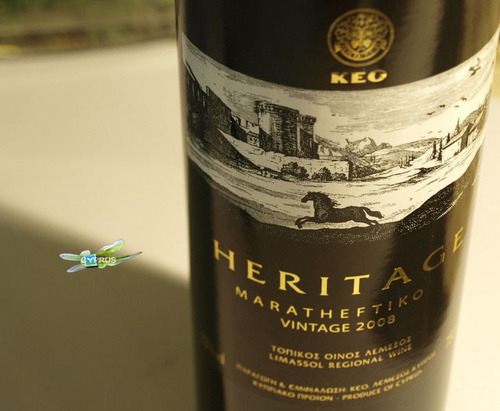 A world of aromas. Full of ripe plum as well as mint, tobacco, moccha, hint of blackcurrant leaf, chocolate, dark spices, ink and green pepper. However after longer decanting the aforementioned notes are mixed with pepper, blueberry and leather.
Laid-Back Sommelier has good friends worthy to have brought the Keo Heritage bottle from Cyprus to show the capability of local wine making.
The Heritage 2008 is an interesting wine, the 2008's palate is soft, round and almost silky and with nice acidity. Full-bodied with a grip on the mid-palate however with a slightly bitter and short finish. Aged for 3 years in French oak from Limousin, the wine's tannins are nicely integated at the age of 4 years (tasted in July 2012).
Just a note about Maratheftiko Vineyards, Pitsilia today is actually the region where Marathefiko is least grown today, as Krasochoria, Vouni Panayia and Diarizos regions concentrate today most of the fields with this variety which in the coming years will produce single estate Maratheftiko wines which should be even more interesting.
More on the review: Keo Heritage Maratheftiko, 2008 See on laidbacksommelier.blogspot.com.es