Wine Cyprus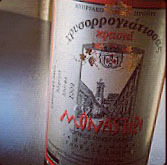 If you are into peregrinations or into religious artifacts, at the Monastery you'll also be blessed with finding 2009 Monastiri, a Cabernet Sauvignon, Merlot and Shiraz blend.
The monastery is probably best known for its two other table wines produced by Abbot Dionysios, who has given a new life to age old tradition of winemaking. Ayios Andronicos, a white wine made of Xynisteri and meant to be consumed young, and Ayios Elias.
Chrysorroyiatissa Monastiri 2009 Cabernet Sauvignon, Merlot and Shiraz) Note by Mateo – @whineontherocks – Satisfying aroma marked by blackberries, plum, black pepper, cloves and a light hint of vanilla and chocolate. To the palate, harsh tannins and a noticeable spike in the alcohol that smoothed out once the wine was matched with food and had enough time to breathe. Black fruit predominates in a blend that lacked some flavor in the mid-palate, a miss in the finish.
Via whineontherocks.com
Photos: Via Naturally-Cyprus